Ever since the MASH project started offering home battery storage systems back in 2016, the interest in batteries has been quite staggering.  We find that people love the idea of being more energy independent and cutting their electricity bills still further.  But as soon we let them know the price – currently $13,000 for the installation of a Tesla Powerwall 2 battery plus around $6,000 for a 5kW solar system – interest tends to cool off pretty quickly.  And fair enough too, as for most households the economic justification for spending that much on a battery system is just not there at the moment.  Plain old solar PV still gives the best return in most cases.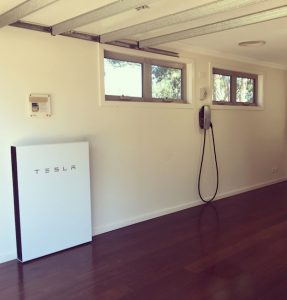 Change is happening!
But this is starting to change.  In the last three months, we've sold nine home battery storage systems.  Whilst this may not sound like many, it is a lot more than in the past.
Our experience seems to mirror what's happening at a national level.  Home battery installations are starting to take off.  A report published by the Climate Council last week puts estimates on home battery installations for 2017 at more than 20,000, a three-fold increase on 2016 numbers of 6,750 new installations.
Battery costs falling
With costs of home batteries expected to fall by 50% in the next seven years according to the Climate Council report, home battery storage is expected to become the 'new norm'.  In the Council's September 2017 survey, 74 per cent of people surveyed across Australia expect household batteries to be commonplace in homes in the next decade.
Large building companies have been quick to spot this opportunity.  For example, major Australian home builder Metricon says more than half of the roughly 1,000 new homes it is building a year in New South Wales will have rooftop solar and battery storage included.  Their package is 5.4kW of rooftop solar and the latest home battery offering from Tesla, the Powerwall 2, which has a storage capacity of 13.5kWh – almost exactly the same as the solar and storage system offered through MASH!
A 'love affair'
Some industry commentators are even calling it a "love affair" with clean energy and battery storage that is only just beginning for Australian households as we discover how batteries can help us reduce our exposure to expensive grid supplied power.
There's no doubt that batteries have the potential to revolutionise the electricity landscape in Australia.  One reason is because batteries – when combined with smart software – have the ability to discharge electricity into the grid at times when it is most needed (like those super hot days we've been experiencing).  This increases the stability of the grid, reducing the likelihood of grid outages.
Solar + batteries = A game changer
The value of this increased grid resilience is enormous to all the players in the electricity supply chain.  So expect to see changes – big changes – in the way electricity is generated, stored and valued in the coming years.  And also expect to see householders like you being an active and valued participant in that electricity supply chain!
Be part of the MASH solar bulk-buy!  
MASH has been responsible for the installation of 830 rooftop systems in the past 4 years, cutting CO2 emissions by over 4,500 tonnes annually and installing six free solar systems on community groups and schools.  We are now aiming for 1,000 systems!   Help us reach our target. If you are interested in going solar – or adding batteries – want to help us reach 1,000, register for a quote at mash.org.au or call MASH on 1300 466 274.
This column is kindly published by MASH's media partner, The Midland Express
This is the ninth column of 'Solar Matters', a 10-part series by The Hub Foundation, the not-for-profit organiser of the MASH community solar bulk-buy which has helped over 830 households, schools and businesses go solar since mid 2014. This column was written by Jo Kaptein, Executive Officer at The Hub Foundation and is published by MASH's media partner, The Midland Express.