Here are the prices for solar systems available through the current round of the MASH community solar bulk-buy – MASH round 3.1.
It's a great time to invest in solar; that's because the cost of solar panels and inverters continues to decrease whilst the amount you get for the feed-in-tariff has just increased.  Add to that rapidly rising electricity prices and you'll understand why, for many households and businesses, going solar is a 'no brainer'.
Already over 700 homes have gone solar with MASH since we started three years ago. Request a quote today!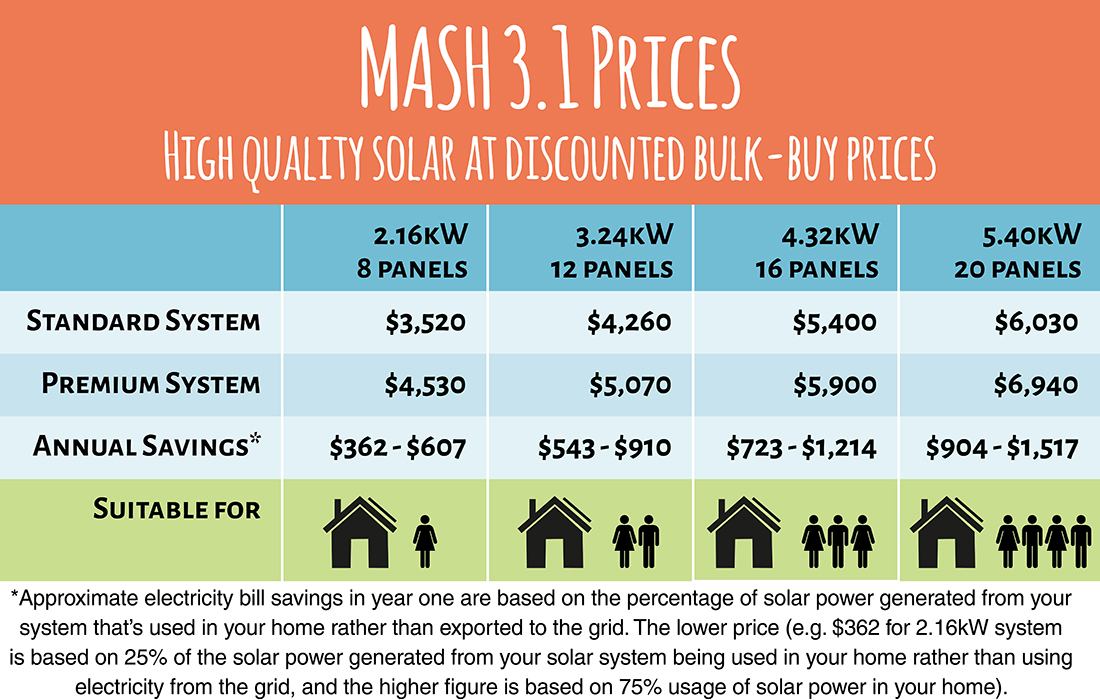 MASH 3.1 offers two solar systems
Standard System
Solar panels: Jinko 270 watt (25 year performance warranty, 10 year product warranty)
Inverter: Zeversolar
Jinko panels: High quality tier 1
Zeversolar inverter: Reliable with 5 year warranty, made in China and owned by SMA, one of  the world's leading inverter manufacturers.
Premium System
Solar panels: Jinko 270 watt
(25 year performance warranty, 10 year product warranty)
Inverter: Fronius
Jinko panels: High quality tier 1
Fronius inverter: High-tech Austrian-made inverter with 10 year warranty.
Good reasons for going solar with MASH now:
1/ Prices lower than MASH 3
This is due to a combination of improvements in solar panel technology (more watts more panel) and falling wholesale prices.
2/ Feed-in-tariff has increased  
From

1st of July 2017

, the government minimum feed-in-tariff increased from 5c to 11.3c per kWh in Victoria.
3/ Free solar systems for community groups
For every 100 new MASH systems installed, the Hub Foundation, the not-for-profit organiser of the MASH bulk-buy, will donate a free solar PV system to a community group in the areas where MASH is available. To date, MASH has installed five free solar PV systems on community groups and schools in the shires of Mount Alexander and the Macedon Ranges and we're hoping – that with your support – we can do more!
Who's the MASH 3.1 solar installer?
For MASH 3.1, we are pleased to partner with Solargain, a large Australian-owned solar company with over 100 staff and offices in West Melbourne and WA. Solargain has been in the solar industry for over 10 years, is a member of the Clean Energy Council and has installed over 40,000 systems to date.
In addition to the manufacturer warranties mentioned above, Solargain provides a 5 year workmanship warranty on all its installations.
If you have any queries, please phone Solargain on (03) 9272 7980 or email mash@solargain.com.au. Make sure to let them know that you are calling about MASH.
And yes, we also offer batteries!
If you are interested in battery storage (adding them to your grid connected solar system), the MASH 3.1 supplier, Solargain, can help you. Note that we are offering off-grid systems as well, but through a different supplier, Bendigo-based Sunergy, who are specialists in this area. You can get in touch with them to request a quote by completing this form.
What do I do if I'm interested?
How do I register?
To register, please fill in the online form on this website which you can access by clicking here.
Will someone come to my home for a site visit?
Yes, should you wish, a free home visit can be arranged at a mutually convenient time, without obligation, prior to you making a purchase decision.
What are the payment terms?
100% payment due on day of installation.
Is there any finance available?
Yes, the MASH 3.1 solar supplier, Solargain, can put you in touch with a finance organisation for a loan. The Hub Foundation, organiser of the MASH bulk-buy, does not provide financial advice and does not recommend any financial services organisation.
How long will it take to get my system installed?
Around 4-6 weeks, assuming a standard installation.
What's included in the price?
Prices are for installing a solar power system in a single array (i.e. not splitting the panels say on two different areas of the roof) on a standard roof, to a home with single phase power supply and where an up-to-date switchboard and meter is already available (this is generally the case in the majority of homes these days and will be checked at the site visit).
Prices include all components of the solar power system and installation. They also include managing all the paperwork between the electricity network distributor (e.g. Powercor) – for getting your solar power system approved for connection to the grid – and your electricity retailer for having your meter set-up so that you receive a feed-in-tariff for the solar power you export to the grid.
Prices include GST and are net of STCs (Small-scale Technology Certificates) which you assign to the MASH 3.1 solar supplier who claims them on your behalf which is standard industry practice. The STCs act like a subsidy for solar power. Without the STCs, your solar power system would cost around 25-30% more.
MASH 3.1 prices (as advertised in the table above) do not include any additional cost for travel (for site visits/installations etc) as long as the property is within 150 kilometres of Solargain's West Melbourne office. If your property is more than 150km from their office, an amount per kilometer will be charged and made clear on the quotation you receive.
The only cost that is not included in the price is the amount you will be charged by your electricity retailer for reconfiguring your meter for solar. That amount is usually around $60 to $100 and is normally added to your first bill after the solar installation. We recommend that you contact your electricity retailer prior to ordering a solar system to check what they will charge you.