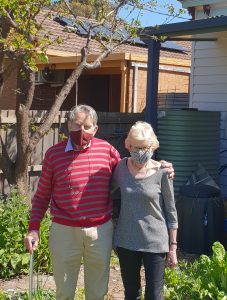 The Solar Homes application process was very easy and straightforward and MASH's solar provider, Cola Solar, were very professional, quick and very good on the communications side of things.
Mark and Fiona Lycette, Daylesford
We were extremely happy with the results of engaging with MASH and their commercial solar installer, Cola Solar. The process was straightforward because the information and guidance from MASH was genuine and gave us confidence to proceed. MASH has done all the hard work and due diligence that is often intimidating when choosing a solar solution. I would not hesitate in recommending engaging with MASH and their partners.
Linda Pickering, Central Goldfields Shire
"Thank you for the information session. I learnt a lot and feel much better informed and will be more confident when we are in a position to get solar power."
Peter Gossip, Riddells Creek
"I attended one of the online meetings hosted by the MASH team and looked at a recorded battery info session also. I found these extremely helpful in ironing out our queries and found most people also had similar queries. Once again thanks to your team for getting us into more sustainable power and trying to do our bit for the future."

Lee Nicholls, Castlemaine
"I chose to go solar with MASH because I liked the idea that my solar installation was going to help community groups and schools get free solar power. Now, I'm looking forward to generating my own solar power - and also to hearing which community group or school is going to benefit from the next MASH community bonus system."
Malcolm Sutherland, Mandurang
"The communications with the MASH solar supplier were good and the installation met our expectations. We are able to monitor how much solar power is being produced and consumed as well as seeing how much power is being exported or imported from the grid in real time.
Laurel O'Callaghan, Kyneton
"The solar installers did a good job on the day, installing our new 2.97kW solar PV system through the MASH community solar bulk-buy. They turned up early, worked all day and were really professional."
Ellen Johnson, Strathdale
"We've just had a 5.13kW solar PV system installed as part of the MASH community solar bulk-buy. The communication from the solar company was good. Buddy Norris, the installer was terrific and gave us lots of tips on how to use our system effectively."
"I like that the MASH project is community-based and provides economies of scale in terms of buying power. It was also useful to have the technology explained in laypersons language."
"I wanted to be supportive of the renewable energy push and in particular support the uptake of batteries in order to help more people become self-sufficient and not rely so much on the grid. Now with my MASH solar system and Tesla Powerwall 2 battery, I expect that 7-8 months of the year I will be self-sufficient in terms of my electricity needs."

"The MASH info meeting in Castlemaine and was impressive. I could see that their research on components was very solid. I decided to invest in as a large a system as I could afford. I think in the future, decentralisation of power will become very important. With the large amount of sunshine in Central Victoria, the MASH system will be producing a lot of power very quickly."
"The installation was smooth. The MASH team installed a week early - and it took them only two and a half hours. Really impressive work."

Kerrie and Russell West, Castlemaine
"We like MASH because we're confident that they have done the homework for us and researched the market properly. We had the system installed just over 3 months ago. Already we've noticed a big difference in our electricity bills. They were around $130 a month and now they're less than half that."
Lorraine Pestell, Harcourt
"My reasons for choosing MASH are that the economies of scale just make sense for everyone and I love the idea of being able to contribute to solar power for schools and community organisations that otherwise wouldn't be able to afford it."
"We went with MASH because we like that the MASH supplier and solar systems have been endorsed by the Alternative Technology Association. We also like that MASH gives back to the local community with free solar for schools and community groups."
"We are very happy with the installation. The MASH installers spent time at the end showing us how the Tesla Powerwall app works so I rapidly got a handle on understanding the energy flows between the solar, the battery, home consumption and the grid. I have to admit that I'm finding it fascinating! I'm getting a really clear idea of how power is being used in our home and how the battery is contributing towards our energy requirements."
Terry Murphy, Campbells Creek
"It was a key decision point for us that MASH has such a strong community benefit, in terms of donating free solar to community groups and schools."
Paul Gilders, near Maldon
"We were attracted to the idea of being part of MASH because of the community aspect and the focus on CO2 emissions reduction."
Heather Stebbing, Bendigo
"My MASH installation has gone really smoothly. The whole thing was very efficient and well organised. The MASH supplier and installer was totally on the ball and there were no issues at all. I have already recommended MASH to my friends and encouraged them to join in."
Lidia Weil, Campbells Creek
"I highly recommend MASH to anyone who's thinking about investing in solar for their home."
Richard Polak, New Gisborne
"We have two children so we see it as a great opportunity to discuss energy usage with the kids, and why it is important to look after the environment. Solar is something tangible that they can see. We want them to be aware that electricity and gas does not grow on trees and there are ways of being less wasteful with power."
"The MASH solar supplier have been great to deal with. All the information they provided was very helpful and my enquiries were answered promptly and effectively."
"I like to support collaborations at a community level and was impressed by the ethos of MASH, its commitment to CO2 emissions reduction and not-for-profit status. Producing your own solar power is the cleanest form of renewable energy. It's a no brainer in my opinion!"

Doug Hansford, near Guildford
We put a 5kW solar system on our coach house with MASH. We were really delighted with how MASH has organised everything and how smoothly it has gone. Well done MASH!
Sally Kaptein, Castlemaine
We are absolutely delighted with our MASH experience. The MASH installers were totally focused on the job, completely professional and a delight to have on site. Our installation went exactly according to plan.
Jane Huggins, Castlemaine
We're rapt to know that our bill savings should be around $700 each year - that's going to make a difference! We just bought a little portable air conditioner because we've now got solar. We put it on yesterday and it was terrific to be able to run it for free and keep cool.

Rachel Cross, Castlemaine
A huge thank you to you and the other wonderful people behind MASH. I wouldn't have had the confidence - or time - to learn about how to install any solar system without your organisation's support. You guys really made it possible. Thank you for following through on such a great vision.

Helen and Bob Long, Castlemaine
The installation went very smoothly, it looks great and we're rapt that we've finally managed to go solar.
We thought for a long time that we couldn't have solar due to the shading on our roof. But then MASH came along and we heard about the new technology that helps to minimise the impact of shading on panel performance. So we thought 'great' and got on board.
And we're glad we did. Our electricity bill is about 25% lower since we had the panels installed. Plus we are doing what we can to make our beautiful 1850s home more sustainable for the future and to reduce our carbon footprint. We think it's a 'win win' all round!
We loved that it was a local installer and we found the process really easy and friendly. We also loved that MASH is a local organisation that is championing such an important issue.
We're really happy to be part of the success of MASH and looking forward to seeing round 3 being even more successful.
Patricia and Barrie King, Castlemaine
I just think it's the right thing to do. The community gets something out of it as well in the end, putting solar on organisations that perhaps wouldn't be able to do it themselves.
I think it's a good all round program. It's one thing the community can do to say to the government, well, regardless of what you do, this is the way that it's going to go.
Peter Finning, PJ's Discount Tyre Service, Castlemaine
Electricity is very expensive – everything here, the machinery and so on, runs on electricity. The bills keep going up and up and up, so we wanted to slow it down. We've also put panels on our home.
It's pretty straightforward, isn't it? Put the panels on and start saving money.
Ray and Lotte Linden, Castlemaine
We try to be a little bit community minded. I don't know if MASH was dearer or cheaper – I didn't go into that sort of research.
I have no doubt I could have bought a cheaper system, but we bought the premium – because I only ever want to buy it once. It's one of the advantages of waiting for a while is that we could afford to get it done right.
The installation went very smoothly despite patches of rain. The whole experience was a very positive one for me and I can't praise everyone involved highly.
Remi Rauline, Castlemaine
MASH organising the bulk-buy brought us over the line. That's because MASH is reasonably priced and simplified the process. We haven't had to worry about anything; it's all gone smoothly. We like MASH because it is local and we know the people behind it.
MASH is a terrific example of something that's working successfully so we are very happy to be part of it. It is a community effort to change things so instead of feeling helpless we feel we can contribute a bit.
Chris van der Poel, Barkers Creek
It is important to us that MASH is a community project and that the community can benefit from it. We went to one of the MASH community meetings and made up our minds then and there to go ahead.
Bruce Carruthers, Castlemaine
All the environmental issues can sometimes feel overwhelming. Putting solar on my roof is something practical I can do, that helps.
From meter readings so far, Linnet says they are saving more than $25 per week on their bills. What has also helped is that they have shifted their power usage to daytime as much as possible when they are generating their own power from the sun.
Kath O'Connor, Castlemaine
I believe every roof in Australia should have solar panels. That's why I put on a 3Kw solar panel system.
Mary and Jim Blain, Castlemaine
With gas being so expensive, we want to 'de-gas' our home over time. Our new MASH 3Kw system is a great step towards this goal.
For me, 'going solar' was really about what kind of world we are leaving to our children and grandchildren.
Deborah Wardle, Green Gully
We would like to endorse the benefits of participating in a locally run scheme which is really well co-ordinated.