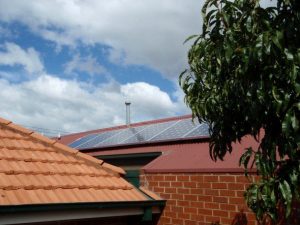 This year, the MASH team has big plans to do lots more solar and battery bulk-buys in Mount Alexander and the Macedon Ranges Shires, the City of Greater Bendigo and also Hepburn Shire.
Our target is 1,100 MASH solar rooftops by the end of December 2018, says Jo Kaptein, Executive Officer at The Hub Foundation, the not-for-profit organiser of MASH.

With the awesome support we have of residents and businesses, councils and sustainability groups throughout central Victoria, we're confident we can do it.
This is the tenth Solar Matters column which weekly in the Midland Express. The MASH team would like to say a huge thank you the MidExpress for their terrific ongoing support.
Big announcements from SA
Whenever you look, it seems like there's yet another announcement from South Australia which spells good news for renewables.  The latest is a promise from the South Australian Labour party to set a 75% renewable energy target by 2025 should they be re-elected.  If this promise comes about, it would be a world-leading target for renewables and would set an ambitious benchmark that would make other state governments sit up and take note.
Vic update
Here in Victoria, our state government's target is 25% renewable energy by 2020 and 40% by 2025. The MASH team recognises the strong support from the Victorian Government for renewables which is helping to drive exciting growth in new projects such as the Community Power Hubs, Renewable Newstead and a new one down the road in Hepburn Shire.
Hepburn Shire Heads Towards Zero-Net Emissions
Hepburn Shire Council and Hepburn Wind have recently announced their intention to become Victoria's first Z-NET community by 2025.  This will make the shire the first Victorian example of a Zero-Net Energy Town (Z-NET) as part of the state government's TAKE2 Community Transition Pilot.
According to Hepburn Wind, "Zero-net energy is achieved when emission-free renewable energy produces at least as much energy as is being produced by emission-producing energy sources. A zero-net energy target is a clear statement of intent that demonstrates dedication to renewable energy and in Hepburn Shire would represent real action on climate change."
MASH Invited to the Hepburn Shire
The MASH project is delighted to have been invited to be part of Hepburn Shire's Z-NET project and, as part of this initiative, will be launching a solar bulk-buy for the people of Hepburn Shire in April 2018.
Together with our partners Hepburn Shire Council and Hepburn Wind, we will be aiming to add another 200 solar rooftops in shire over the next 8 months, and also install around four to five free solar systems on buildings used by community groups within that Shire.
MASH ready to donate again
Due to the success of MASH in Mount Alexander, Macedon Ranges and Bendigo, the MASH project is now in a position to donate just over $7,000 to put towards a solar PV system for a community group, kinder or school in one of these three Shires.  This has come about due to the huge support of MASH by both households and businesses in our area who've chosen to go solar through our community bulk-buy.  Thank you if you are one of them!
A small percentage of every MASH sale goes into a community bonus kitty for a free or heavily subsidised system for a local community group.  We'll shortly be putting out a news release across the region inviting community groups, not-for-profit kindergartens and schools to submit an application with details of the selection criteria, process and timeframe.  If you would like to ensure that you receive a copy of this release, please email me at jo@hubfoundation.org.au.
Helps us reach 1,100 solar rooftops!
The MASH bulk-buy will continue to be available to households, businesses and other organisations in  Mount Alexander, Macedon Ranges and Bendigo throughout 2018.  Thanks to the support of residents in central Victoria, the project is now cutting CO2 emissions by over 4,700 tonnes each year, with over 3.3MW of solar power capacity installed.  Our goal is to increase the number of MASH solar rooftops from 830 to 1,100 by the end of December.  If you are interested in going solar – or adding batteries – want to help us reach 1,100, register for a quote at mash.org.au or call MASH on 1300 466 274.
About this column
This is the tenth article in a series by The Hub Foundation, the not-for-profit organiser of the MASH community solar bulk-buy. We'd like to thank the Midland Express for its ongoing support of MASH, and for its part in helping to make it one of the most successful community solar bulk-buys in Australia