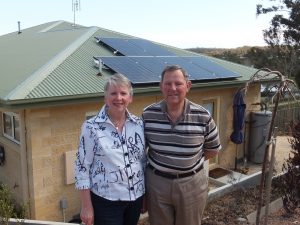 The latest round of the highly successful MASH community solar bulk buy project launched this week in response to strong demand from residents and businesses.
Prices 6.5% lower
According to project officer, Jo Kaptein, "With MASH 3.1 we're offering quality rooftop solar systems at discounted prices which are, on average, 6.5% below those of last year. With components supplied by a national company, Solargain, installations will be carried out by local installers, where possible, to the benefit of the local economy.
"As well, for every 100 installations, there will be a community bonus: we will put a free 5kW system on a community building or school as we've done since we started in 2014.
Feed-in-tariff set to double from 1st July
"It's definitely a great time to go solar. Electricity prices are going up which means that the solar electricity you produce for your own use will save you more money.
"On top of that, the government mandated minimum price you get for exporting solar power back to the grid will more than double from the 1st of July 2017 – from 5 cents per kilowatt hour to 11.3 cents per kilowatt hour.
"So, it's now easier than ever before to earn a high rate of return on your solar investment. Many people will be able to pay off their system within 5-7 years. After that, the cost of the solar power used will be virtually zero.
Solar can really make a difference
"There's another factor too. We have to go solar to help save the planet from serious climate change. A solar system can cut a household's total carbon emissions by around 20-30%", said Kaptein.
Almost 700 MASH solar homes
To date, MASH has installed solar on almost 700 houses.  Now 28% of homes in Mount Alexander and 22% in Macedon Ranges have solar and MASH is aiming for 50% in both areas by 2020. With the continuing interest in solar, the organisers believe this is a reasonable objective.
Register for a quote & free home visit
If you're interested in going solar with MASH, visit www.mash.org.au to register. You will then receive a call from a Solargain representative who will provide you with a quote and, if required, a free home visit.
MASH, organised by the not-for-profit Hub Foundation
MASH, the campaign for More Australian Solar Homes, is a project of the not-for-profit Hub Foundation in Castlemaine which was set up in 2014 to help reduce CO2 emissions in the region.  The MASH project has cut CO2 emissions by over 3,700 tonnes annually, about the same as 730 fewer cars on our roads each year.
MASH is available to homes and businesses in the shires of Mount Alexander, Macedon Ranges and Hepburn, as well as the City of Greater Bendigo.
The Midland Express is proud to be a partner of the MASH project.