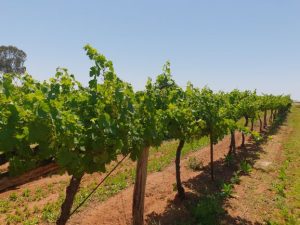 Farmers should get their applications in soon for a free on-farm energy assessment to improve the energy efficiency of their farm.
The on-farm energy assessment is the first step for any farmer who wants to apply for a grant from Agriculture Victoria for up to $250,000 to fund on-farm energy efficiency improvements.
Agriculture Victoria's Peter Harrison said that having the application done before Christmas will give farmers a better chance of having an assessment completed and time to apply for a grant before the grant cut off date of 31 March 2020.
Worth up to $20,000, the free assessment is carried out by an independent assessor and organised by Agriculture Victoria.
Hepburn Solar Bulk Buy organiser Jo Kaptein said the online application for the free assessment was straightforward and quick to complete.
The Hepburn Solar Bulk Buy is a partnership between Hepburn Shire Council, Hepburn Wind and Central Victorian Greenhouse Alliance, and is helping to promote this opportunity for farmers.
"All that's required is your ABN and copies of energy bills for at least one quarter. If you want to improve diesel energy efficiency, you need to provide usage and expenses for on-farm diesel-powered equipment," Ms Kaptein said.
The result of the assessment will be a report containing a list of prioritised actions and upgrades, based on return on investment.  The actions and upgrades in the report provided to each farmer will be tailored to the needs of the business and may include some or all of the following:
energy efficiency improvements
capital expenditure on new equipment (such as refrigeration)
new sources of renewable energy generation and storage (such as solar PV and battery storage).
Following the assessment, farmers can apply for a grant of up to $250,000 to fund the actions/upgrades in the energy assessment report that they deem will be most beneficial to their business. The requirement is that the farm must contribute 50% of the funds required (cash contribution).  For example, if the farmer wishes to apply for a grant of $100,000, then that business will also need to contribute $100,000.
The eligibility criteria for the farmers who wish to apply include:
must be a primary producer
farm located in Victoria
combined annual energy bills (electricity, gas, LPG, diesel) of at least $8,000 inc GST.
For full details of this program, including eligibility criteria, visit www.agriculture.vic.gov.au/agenergy
If you have questions about this grant program or would like support with the application process, please contact, in the first instance, Jo Kaptein at the Hepburn Solar Bulk Buy at jo@cvga.org.au.