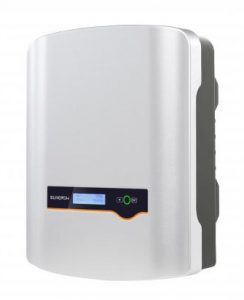 Founded in 1997, Sungrow is China's largest solar inverter manufacturer with a turnover of more than $1.5 billion and over 1,500 employees.  A massive 79 gigawatt of Sungrow inverter capacity has been installed on homes, businesses and solar farms in more than 60 countries.  Today, Sungrow has 15% of the global solar inverter market, making it one of the largest solar inverter manufacturers in the world.
Sungrow is recognised for its technology leadership. Its inverters are amongst the most powerful and reliable available, with efficiency ratings of up to 99%.
Sungrow inverters have won numerous industry awards including an "A" grade rating in the prestigious Photon Lab tests.  Australian industry authority – Clean Energy Reviews – rates Sungrow inverters as one of the top 5 string inverters for Australian households.
Sungrow in Australia
Sungrow inverters are a popular choice in Australia, combining durability and performance at a competitive price.  The company has shown strong commitment to the Australian market, having established an office in North Sydney more than six years ago.
Sungrow Australia now has one of the largest solar inverter manufacturers teams in Australia covering sales, technical support, projects and after sales service. It is well-regarded for the fast, efficient technical support and the excellent after-sales service it provides for warranty claims.
Sungrow inverters meet all relevant Australian standards and are proven to perform well in tough Australian conditions – both extreme heat and cold.  They are listed on the Clean Energy Council approved solar inverters list.
Benefits of Sungrow inverters
Sungrow has a large range of string inverters, suitable for any size of residential installation, as well as commercial solar systems of any size.  Benefits of Sungrow inverters include:
Highly efficient at producing energy – Sungrow inverters can achieve up to 99% efficiency. This is a measure of how efficiently the inverter can convert the power collected from your solar panels into electricity which can be used in your home.  It is one of the key stats to check when comparing inverters.
Safe and reliable – Sungrow inverters have built-in surge arresters and residual current protection and meet all grid-safety requirements
WiFi monitoring included as standard – so you can check out how your system is performing at any time, via your laptop or mobile phone
Sleek, compact design – your inverter will look good wherever it is installed
Lightweight
Low noise
Easy installation – lightweight design, with push-in connectors and a include a mounting plate with an internal level so installation costs are lower
Warranties
The Sungrow inverter comes with a 10 year product warranty through the MASH and Hepburn Solar Bulk-Buys.
Datasheet