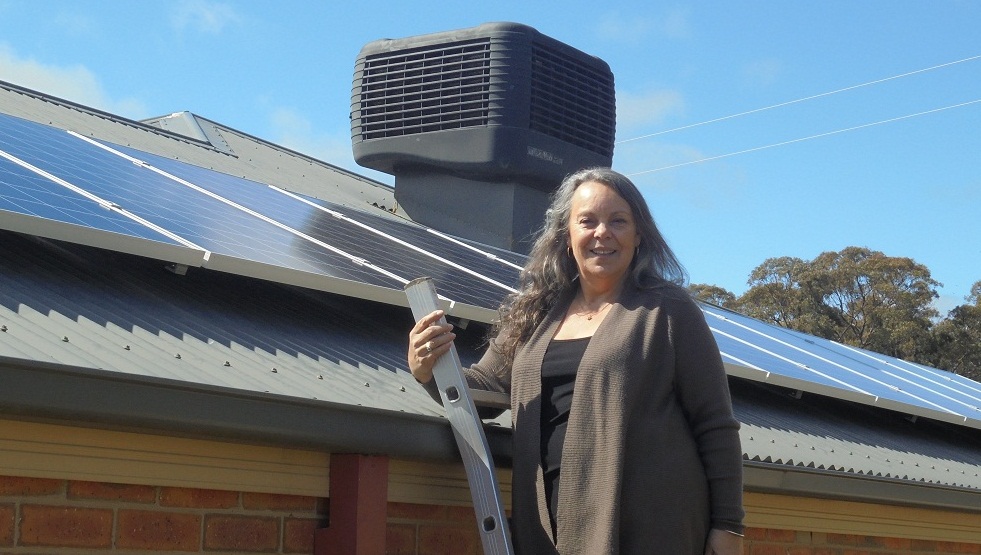 Protection against rising power costs and reducing the family's carbon footprint were the two main reasons why Lidia and Sonja Weil decided to invest in a MASH solar system for their Campbells Creek home.
A more sustainable way of life
"I'm going on a pension soon and I need to make sure that we have a sustainable way of life into retirement", said Lidia.
"Right now my daughter and her two young children are living with us. We use a lot of daytime power. My plan with the MASH solar system was to go a bit bigger than what we need right now, and over time, to move some of the gas services – like some heating – over to electric to cut our overall power costs. We want be very independent in the coming years and solar is part of that."
MASH being local, a plus
"I went straight to the MASH community solar bulk-buy because it is already organised and from what I'd heard, it seems to run so smoothly", said Lidia. "Plus it is local. The Hub Foundation, the organiser of MASH, is in town and the people behind the MASH project live in town. I like that."
MASH 'done the research'
With no spare time for researching the ins-and-outs of solar systems, Lidia found the help offered by the MASH team to be really useful. "I didn't have the time to do the research. MASH spelt everything out for me. I went to the MASH Castlemaine info meeting and it was very informative."
"I had a girlfriend who had a bad experience with another solar organisation. I didn't want that. I felt that MASH has done the research, the hard yards, and that I could rely on them to install a quality solar system at a competitive price."
Solar system that handles shading
Lidia chose to go with a slightly different MASH system from the norm; one that could handle the partial shading on her roof at certain times of the day and the need to position the panels in three separate arrays.
She opted for a 5.2kW SolarEdge system, which has power optimizers on each of the 20 panels. This means that when one panel is shaded it only affects the output of that panel, not the entire array.
20 panels split across 3 sections of the roof
"Another reason for paying the extra for SolarEdge is that I wanted as many panels as possible north facing and the rest on the other available roof spaces", said Lidia. So Sunergy, the MASH solar supplier, designed the system to optimise the solar production from the roof by splitting the 20 panels across three separate arrays, maximising the solar production of the available roofspace .
"So whilst I paid a bit more for SolarEdge, I've got a solar system that's handling the shading issues on my roof and producing the maximum amount of solar power that's possible with my roof layout. Plus with SolarEdge I get longer than average warranties; 25 years for the power optimizers and 12 years for the inverter. And that's a pretty good feeling", said Lidia.
"It was great to see the other morning that my MASH system was running all the electric appliances that I had running and I didn't have to draw any power from the grid.
"I highly recommend MASH to anyone who's thinking about investing in solar for their home. MASH's supplier Sunergy has been great to deal with too."
At a glance
Household size: 5 people
Campbells Creek, near Castlemaine, Victoria
MASH 5.2kW solar PV system comprising:
– 20 x JA Solar 260 watt panels
– SolarEdge 5000 inverter + SolarEdge P300 power optimizer
Running on electric: evaporative cooling, washing machine, dryer, dishwasher, 2 fridges, TVs, lighting, shed/studio and in the future a pool pump and some electric heating
About MASH
MASH stands for the campaign for More Australian Solar Homes, a community solar bulk-buy organised by the not-for-profit Hub Foundation in Castlemaine.
For more information about MASH, visit mash.org.au or call the MASH team on 1300 466 274.