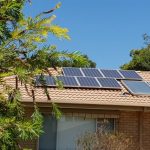 The state government's Solar Panels Rebate – worth up to $2225 plus an interest-free loan of up to the same amount – is a great thing in principle but it has been causing no end of headaches for people trying to apply for it.  A revamp of the rebate was launched on July 1, with a new application process which includes facial recognition and is online.
Predictably, this has been causing problems for many people.  If you are tech savvy, comfortable with downloading apps and all the rest of it, then no problem.  But many people who are trying to get the rebate don't have this level of IT knowledge and, we hear, that people have even employed the services of IT consultants to help them out!
Rebate capped
The problem has been compounded by the fact that there are only 3,333 rebates available each month.  In addition, there's 166 rebates for renters. If you miss out one month, you have to reapply the following month.  In July, these rebates were all gone within 3 days.  The installers we work with tell us that they have at least 2-3 times more people wanting to buy solar than actually got the rebate in July.  That's not good for anyone!
MASH can help!
If you decide to purchase a solar panels system through the MASH Community Solar Bulk-Buy, we can help you with the rebate application process.  It's important to get your quote sorted first (i.e. before the 1st of the month).  Then on the 1st of August, you are welcome to come to a free drop-in session:
Castlemaine Senior Citizens Centre, Mechanics Lane, Castlemaine, 9am-11am
At the office of the MASH solar provider, Macedon Ranges Solar Power at 2/44 Barry Rd, New Gisborne, 9am-11am.
We recommend that you come as close to 9am as possible due to the predicted high demand for rebates in August.  If these sessions prove popular, we will look to repeat them in September.
Payback
Without the rebate, the typical payback on solar is around 5-6 years.  With the rebate, it can be a little as 3 years if you can use around 40% of the electricity you generate from solar during the daytime.  So even without the rebate, going solar makes good cents (pardon the pun).
Next step
If you would like to get an obligation-free quote from the MASH community solar bulk-buy, visit mash.org.au or call 1300 466 274. To learn more about the Vic rebate visit solar.vic.gov.au or call 1300 363 744.
MASH is available in Mt Alexander Shire, Macedon Ranges Shire, Hepburn Shire and the City of Greater Bendigo.  MASH is a project of the not-for-profit organization, the Central Victorian Greenhouse Alliance, based in Castlemaine.