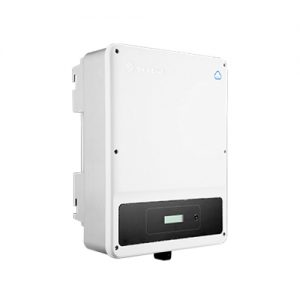 Through the MASH Solar Bulk-Buy – in conjunction with Cola Solar – we are offering the GoodWe 5kW DNS Solar Inverter as our standard, lower cost option. This is backed by a 10 year product warranty for the GoodWe inverter through the MASH solar retailer – Cola Solar.
Cola Solar has been supplying and installing GoodWe inverters for seven years with excellent results and a very low claim rate.
About the GoodWe Solar Inverter
GoodWe's DNS series is a single-phase on-grid inverter with excellent compact size, comprehensive software and hardware technology. Manufactured for durability and longevity under modern industrial standards, the DNS series offers high efficiency and class-leading functionality, IP65 dustproofing and waterproofing and a fan-less, low-noise design.  It is white, with an LCD display showing solar production data and Wifi monitoring of solar production data (i.e. showing you how much solar power your system is producing).
Download the GoodWe Technical Specification Sheet – click this link: GoodWe DNS Solar Inverter Datasheet
Download the GoodWe Product Warranty – GoodWe Inverter Warranty
5kW GoodWe Solar Inverter
We are supplying the GoodWe DNH inverter with 5kW inverter capacity on all standard systems – even the smaller ones like the 2.96kW system (rather than offer the GoodWe 3kW inverter).  This is because, unlike the 3kW GoodWe inverter, the 5kW GoodWe inverter provides the option for two arrays of solar panels to be situated on your roof (i.e. north facing and also west facing) at no additional cost.  Of course, if you require a larger size system – like a 10.36kW system through MASH – then Cola Solar would quote you for two of the GoodWe 5kW inverters.

About GoodWe
GoodWe is a world-leading PV inverter and energy storage solutions manufacturer and is listed as a public limited company on the Shanghai Stock Exchange (Stock Code: 688390).
With an accumulative delivery of two million inverters and installation of 16 GW in more than 80 countries, GoodWe solar inverters have been used in residential and commercial rooftops, industrial and utility scale systems and range from 0.7kW to 250kW. GoodWe has more than 2000 employees situated in 15 different countries. GoodWe has also ranked as one of the Top 10 inverter suppliers by IHS Markit and has achieved five consecutive TUV Rheinland 'All Quality Matters' Awards.
GoodWe in Australia
GoodWe has had an established presence in the Australian market since 2012 and has achieved EuPD Research's Top Brand PV Award seal in Australia in 2019 and 2020. The company has set up an integrated service system for pre-sale, in-sale and after-sales nationwide and has also developed a concept of workshops which aim to offer technical support (project consulting, technical training, onsite support, and after-sales service) to all customers.