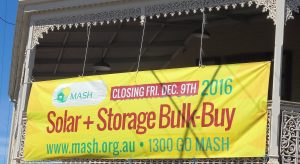 The MASH community solar bulk-buy's most successful round to date will end on Friday December 9th at 5pm.  This follows a four month community engagement campaign organised by the Hub Foundation in Castlemaine.
MASH record
According to MASH's project officer, Jo Kaptein, "This third stage of MASH has been amazing. We've attracted over 600 expressions of interest via the web site and, although actual sales  are still being confirmed with customers, it seems certain that the number of installations resulting will be a MASH record.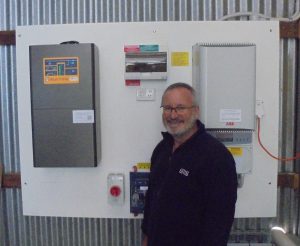 Over 600 systems installed
"To date, since late 2014 MASH has installed over 600 solar systems, including many commercial and off-grid systems, and been widely praised for the attractive prices and good service.
Solar keeps getting better
"It's a great time for solar.  Whilst power prices keep rising, with the latest electricity price increase of around 6-10% to take place on January 1st,  solar prices just keep falling.  And the technology is getting better too. When solar got started in this region 10 years ago the average panel produced 165 watts. Today we're selling panels which put out 260 watts and cost 80% less per watt.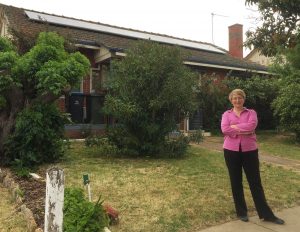 Nearly 30% of houses in Mt Alexander Shire have solar
"Today nearly 30% of houses in Mount Alexander shire have solar and around 22% in Macedon Ranges. We're confidently predicting these figures will rise to at least 50% by 2025. We'll throw a big party when one of the shires reaches that impressive level!
"Whilst there has been a lot of interest in batteries, sales have not really taken off yet. We expect this to happen in 2017 when huge price drops are expected and as thousands of Victorian homes see their higher feed-in-tariffs drop from around 25c per kilowatt hour to around 5-7c per kilowatt hour.
MASH round 4 in 2017!
"MASH expects to run stage 4 in 2017. Many people are building houses or extensions and MASH4 should suit them well. Others are increasingly becoming aware that solar can save the average household around $700 per year and that this saving will only increase as power price go up" said Jo Kaptein.
You can contact MASH at mash.org.au or phone 1300 466 274.