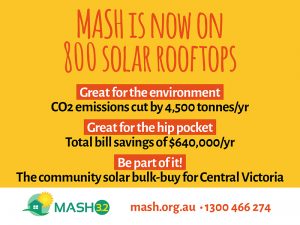 Huge interest in the current round of MASH has driven a massive uptake in solar systems sold through this bulk-buy in the last month, bringing to a total of 800 the number of MASH solar rooftops installed since the project started in mid 2014.
"Rising electricity prices, changes in the Government financial incentive for solar and falling wholesale prices for solar panels and inverters are key factors driving this strong demand in rooftop solar", said Jo Kaptein, Project Officer at The Hub Foundation, the not-for-profit organisers of MASH.
"We're thrilled by the terrific response to this round of our community solar bulk-buy and the impact this is having on CO2 emissions reduction and bill savings for the households and businesses who've gone solar", said Kaptein.
Since September 2014, when MASH started installations, the bulk-buy has achieved:
800 new solar rooftops
12,000 panels installed
$640,000 per year off residents' electricity bills (approx)
4,500 tonnes CO2 emissions cut annually (equal to around 900 cars off the road)
Six free solar systems (over 20kW) donated to schools and buildings used by community groups
"Industry experts are predicting strong growth in rooftop solar in the coming year", said Kaptein.  "The MASH team certainly plan to be helping lots more households and organisations go solar in 2018 – so watch this space as we have some exciting plans in pipeline!"