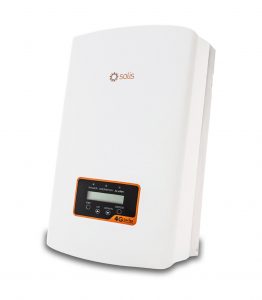 Solis is an award-winning brand of inverters designed and made in China by Ginlong Technologies, a multi-billion dollar company and one of the world's largest solar inverter manufacturers.
Solis inverters have been awarded the title of 'Top Inverter Brand' by the photovoltaic authority research organization 'EuPD' for four consecutive years -2016, 2017, 2018, 2019.  They have been used in high profile installations around the world including the Shanghai Expo and the Eiffel Tower.
Solis in Australia
Solis inverters have been available in Australia for over 10 years.  They meet all relevant Australian standards – including AS/NZ 4777 – and are listed as Clean Energy Council (CEC) approved inverters (this is required if you intend to apply for the Victorian Solar Panels rebate).
One reason for the success of the Solis inverters in Australia is that they are designed to operate effectively in extreme weather conditions.  They have a rated operating range of between -25 to 60 degrees Celsius, as well as in-built temperature protection and cooling.
Solis's Australian office – based in Cheltenham, Victoria – provides responsive customer support and fast turnaround times.  Due to the company's focus on product quality, Solis inverters have a very low failure rate.  However should there be a problem with your inverter you can rest assured that it is backed by a product warranty of 5 years which can be extended to 10 years if you wish.
Highly efficient
Efficiency rating is a measure of how effective the inverter is at converting power from your solar panels (DC) into power that can be used in the home (AC).  Solis states on their website that they test the efficiency of their inverters in typical operating conditions – rather than 'ideal factory conditions'.
Solis inverters have an efficiency rating of over 97%, making them one of the most efficient inverters on the market.
Solis: Ticks All the Boxes
Solis inverters are a solid choice for anyone looking for a well-priced inverter that is designed to perform efficiently in Australian conditions.  Key features and benefits:
Meets Australian standards
On the CEC Approved Inverter List
Financially strong parent company
Australian support office
Suitable for both large and small installations (single phase and 3-phase inverter models)
Contemporary, unobtrusive design – with a display screen on the front of the inverter which shows solar production data
High efficiency rating
Designed to operate effectively in extreme cold and heat
WiFi monitoring – solar production data available via a user-friendly app
Built-in export limiting – This allows you to have the size solar power system you want (e.g. 5kW) and to limit the amount of solar power exported to the grid to whatever pre-set limit is required by the network distributor (e.g. 3kW).
Datasheet