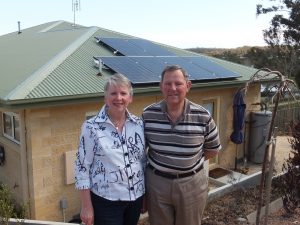 The local community solar bulk-buy for residents in the Hepburn Shire is proving hugely popular. Launched in April this year with the support of Hepburn Shire Council, already over 140 households in the Shire have chosen to 'go solar' through the Hepburn Solar Bulk-Buy.
"The target for the Hepburn Solar Bulk-Buy is to increase the solar generation capacity in the Shire by 800 kilowatts by the end of December", said Jo Kaptein, from the not-for-profit organiser of the Hepburn Solar Bulk-Buy. "The good news is that we have reached that target three months earlier than expected".
"This is exciting because it means that, together with the support of Hepburn Shire Council, we will donate at least $20,000 in free solar for community groups and or schools in Hepburn Shire", says Jo.
"We will soon be issuing a news release explaining how community groups and schools in the Hepburn Shire can apply for free solar. If you'd like to receive the release, please email info@cvga.org.au."
To learn more about the bulk-buy and to request a quote, visit mash.org.au/hepburn or call 1300 466 274. The bulk-buy will continue to be available to Hepburn Shire residents into early 2019.