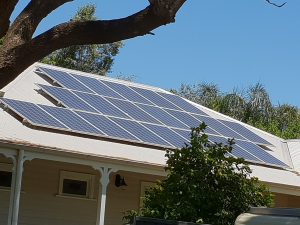 There's good news for householders thinking of applying for the Victorian Government's solar or battery rebate from the 1st of July 2019.
If you buy a solar PV or battery storage system from 1st July 2019, a new – and much slicker – system for applying for, and claiming, the rebate will be in place.
Cuts out the paperwork hassle – and you get the financial benefit much quicker!
The big benefit of this new process is that you won't get bogged down in handling the paperwork yourself.  Instead, that's the job of the solar company you buy your system from.
We think that's terrific news for householders.  Why?  Because you'll have much less paperwork to do – and you get the value of the rebate deducted from the cost of your system.
How it will work
The value of the Victorian Government's rebate will be deducted from the cost of your system.  For example if you buy a solar PV system worth $5,000, you will only pay $2,775 to your solar supplier.  They will claim the difference (ie the rebate which is $2225) from the Victorian Government once your system has been installed.
New rebates from the Victorian Government
From the 1st of July, the Victorian Government is offering new rebates to eligible Victorian households in addition to the main rebate of up to $2225 for a solar PV system.  These additional rebates are:
no-interest loan for a solar PV system, repayable over 4 years
solar rebate for rental properties
solar battery rebates worth up to $4839
For more information about the Victorian State Government's solar and battery rebate program, visit https://www.solar.vic.gov.au/
What about the Federal Government's support for Solar?
The current Small-scale Technology Scheme from the Federal Government is still in place and the value of the 'rebate' under this scheme is deducted from the cost of your solar PV system. This scheme has been in place for several years and is enormously valuable for householders going solar.  Without it, the cost of a solar PV system would be around 25% to 30% higher.
For more information about the Federal Government's Small-scale Technology Scheme, visit: