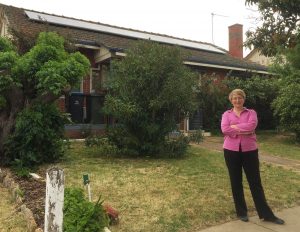 A determination to do something tangible about climate change was the main reason behind Bendigo resident, Heather Stebbing's decision to invest in MASH solar system.
Positive action
"I've been concerned for some time about climate change and the long-term effects if we don't do something about it.  Instead of feeling overwhelmed by it all, I wanted to do something positive to make a difference. Putting solar panels on my roof seemed like a practical step I could take to do my bit to help.
"Also over winter I had a really high electricity bill – around $600 for three months – so that also prompted me to start looking around", said Heather.
Grassroots appeal
"I heard about the MASH solar bulk-buy at a climate change meeting in Bendigo.  I looked into it and thought it looked good. I like that it is a grassroots community initiative to do something about cutting CO2 emissions."
Being ready to add solar battery storage in the future is also important to Heather. "I went with a system that is bigger than I need right now because eventually I want to have batteries. So putting on 20 panels was a bit about future proofing and also a bit about putting green power back into the grid.  It also feels good to know that my neighbours are using my excess solar power rather than dirty power from coal-fired power stations."
MASH experience "hassle-free"
The MASH experience has been hassle-free for Heather.  "My MASH installation has gone really smoothly.  The whole thing was very efficient and well organised.  The MASH supplier and installer, Sunergy, was totally on the ball and there were no issues at all.  I have already recommended MASH to my friends and encouraged them to join in."
At a glance
Number of people in household: 2-3
Solar PV system size: 5.2kW
System components: Fronius Primo inverter and 20 x 260 watt JA Solar panels
Installed: October 2016
Appliances using electricity: everything except for the hot water
Expected electricity bill savings in yr 1 with solar: $1128