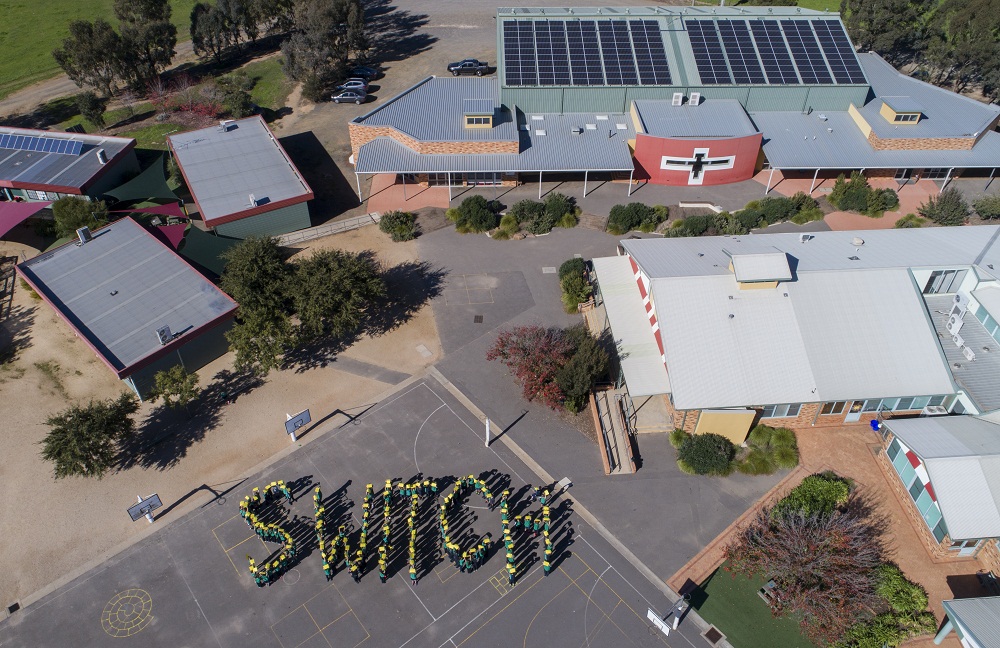 St Francis of the Fields Primary School has teamed up with MASH (More Australian Solar Homes) and The Hub Foundation Castlemaine to install solar panels to reduce their energy bills by 50%.
One of the largest primary schools in the region goes solar
St Francis of the Fields is located in Strathfieldsaye, Bendigo and is one of the largest primary schools in the region with just over 550 students. Named after St Francis of Assisi the school sits on 28 acres of farming and sporting fields and has dedicated its curriculum to learning about living more sustainably whilst guiding their students to be their best, be safe, respect for all and their environment.
220 panels installed
As part of this program the school has installed 220 solar panels on their Gymnasium Centre, which accounts for 64 kW of free green clean energy.
MASH supported the process
School Principal Tim Moloney says that the large roof of the Gymnasium Centre is the perfect place for solar panels to generate clean solar electricity, reduce costs and make a lasting impression on our students and wider community.
It's been a pleasure working with the not for profit group The Hub Foundation via their MASH project. They have supported us through the process that has allowed an increase in our schools capacity for clean solar electricity for our school.

Not only will these systems contribute to the environmental impact of our community but the cost savings will contribute to the financial stability of our school.  Over $100,000 of solar panels* have been installed on the shed roof and we have committed to a 3 year lease where we pay $22,000 per year. With the expected cut to our power bills will be $14,500, we will only pay $7,500 per year for 3 years and then we will own all solar equipment, says Mr. Moloney.
Solar is just the first step
Mr. Moloney says that the savings won't finish there.
We are committed to the ongoing reduction of our carbon footprint and energy bills. The solar is the first step.  We have also replaced all high bay and fluro lights inside our gymnasium with LED lighting. Next will be to convert 400 fluro lights inside the main school building to LED.  I can't wait to see the savings and to see the students become involved in the daily monitoring of solar generation, cuts to our energy consumption and become more environmentally aware.
Students excited
The St Francis students are also excited about what it means to have solar panels in their school and how they can be involved.
The solar and LED lights use less energy but the lights are brighter and turn on and off faster than the old ones. – Gil Neilson Grade 3

I love solar panels. They provide us with free electricity from the sun and help our environment be safer for us all. Harry Norman Prep.
If you would like more information about this story or would like to arrange a visit to the school please contact Rebecca Norman at 0438 934 018 or email at bec@friendlysavage.com.
The MASH community bulk buy is now open in City of Greater Bendigo and the shires of Mount Alexander and the Macedon Ranges. Visit mash.org.au to learn more and to register for a quote.
*Note: This is the value of the solar system before deducting the value of the Small-scale Technology Certificates.