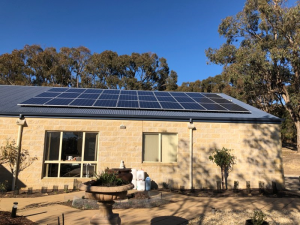 This page provides information about the two main types of solar  rebates for solar systems installed on homes in Victoria – one from the Victorian Government, and the other from the Federal Government.
Also on this page is info about the solar battery rebate from the Victorian Government which starts on 1st July 2019 – worth up to $4839.
There's never been a better time to go solar!
1/ Victorian Government Solar Homes Rebate
The Victorian State Government's Solar Homes Rebate is worth up to $2,225 for eligible households. It was launched in August 2018.
This solar rebate program restarts on 1st July 2019.
If you are considering installing a solar power system with a rebate and have not yet applied to Solar Victoria, you will now need to wait until applications open again on 1 July 2019. After this time, you must have received eligibility confirmation before installing your system to be eligible to receive a rebate.  However, it is a great idea to get a quote now so that when the 1st of July 2019, you can be the first in the queue to get your eligibility approved (and then after that, place your order for a solar system). 
Rebate program will be extended –  including rebates for solar batteries!
When the Solar Homes Rebate program re-opens on 1 July 2019 there will be three additional offerings
Note: It will only be possible to get ONE rebate (i.e. even if you are eligible, you won't be able to claim a rebate for both the solar power system AND the solar battery….it's one or other!)
2/ Federal Government 'Solar Rebate'
The Federal Government 'rebate' is known as Small-scale Renewable Energy Scheme under which Small-scale Technology Certificates (STCs) are issued.  The STCs are worth around $630 per kilowatt of solar installed (at March 2019) – so on a 5kW system, the STCs are worth around $3150.
This amount is almost invariably treated as a point-of-sale discount, which means that the price you are quoted for a solar power system – in almost all cases – is net of the value of the STCs. There's a great article that explains STCs in layperson's language here.