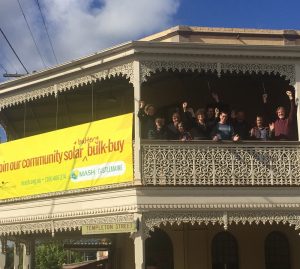 Community solar bulk-buy, the campaign for More Australian Solar Homes – known as MASH – is kicking goals when it comes to cutting greenhouse gas emissions.
Since it started in 2014, MASH has cut CO2 emissions by more than 4000 tonnes annually, equal to 800 fewer cars. It has also installed over 20kW of free solar systems for community groups and schools.
"This has been achieved because of the amazing support of residents in our region who've got behind the project and installed solar," said Jo Kaptein, project officer at the Hub Foundation, the Castlemaine-based not-for-profit organisers of MASH.
"The uptake has been enormous – now over 700 households have gone solar with MASH. And households are benefitting too with bill savings of around $500,000 each year.
"With feed-in tariffs more than doubled since July and electricity prices on the rise, going solar makes sense for an increasing number of households and businesses."
Ms Kaptein said a change in the government financial subsidy for solar would mean that the price for solar systems will increase by 6.5 per cent from January 1, 2018.
"So with our current MASH bulk-buy, we're holding prices until November 30 to ensure that people can get their systems installed before the end of December and benefit from the current lower prices."
The Hub Foundation is proud to acknowledge the supports of its partners including Mount Alexander Shire Council, Mount Alexander Sustainability Group, Macedon Ranges Shire Council and Macedon Ranges Shire Sustainability Group.
The new round of MASH, which was launched on October 31, offers solar PV systems as well as battery storage in the form of the Tesla Powerwall 2.
A MASH information meeting will be held on November 16 at the Castlemaine Town Hall from 7-8.30pm. Alternatively visit mash.org.au or call 1300 466 274 to find out more.