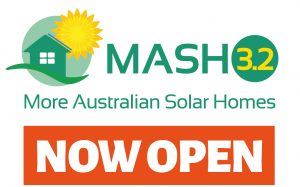 A new round of the MASH Community Solar Bulk-Buy launched on 31 October 2017.  Called MASH 3.2, this round offers high quality solar and battery storage systems including – for the first time through MASH – the Tesla Powerwall 2.  Whilst primarily designed for households, the MASH project can provide tailored solar solutions for businesses, schools and other organisations.
The Hub Foundation, the not-for-profit organiser of the MASH Bulk-Buy, is delighted to be working with Energy Matters as the solar supplier and installer for this round. The MASH project is also supporting local installers, such as Universal Power & Light in Castlemaine, who are working under contract to Energy Matters to do many of the MASH installations in our area.
MASH is going from strength to strength thanks to the support of residents, businesses, Councils and sustainability group partners in the region. Since MASH started in 2014, the project has achieved:
700+ residential solar rooftop installations
Cut CO2 emissions by 4,000 tonnes per year (equal to 800 cars off the road)
Cut household electricity bills by $500,000 annually
Donated over 20kW of free solar systems to six community groups and schools
The MASH team is currently seeking expressions of interest for the next free MASH community bonus system – so if you are involved in a community group or school and you think they would benefit from going solar, please get in touch with the MASH organisers at info@hubfoundation.org.au.
The Hub Foundation is proud to acknowledge the supports of its partners including Mount Alexander Shire Council, Mount Alexander Sustainability Group, Macedon Ranges Shire Council, Macedon Ranges Shire Sustainability Group, Bendigo Sustainability Group and Hepburn Wind.
For more information about MASH 3.2 including pricing, visit mash.org.au or call the MASH team on 1300 466 274