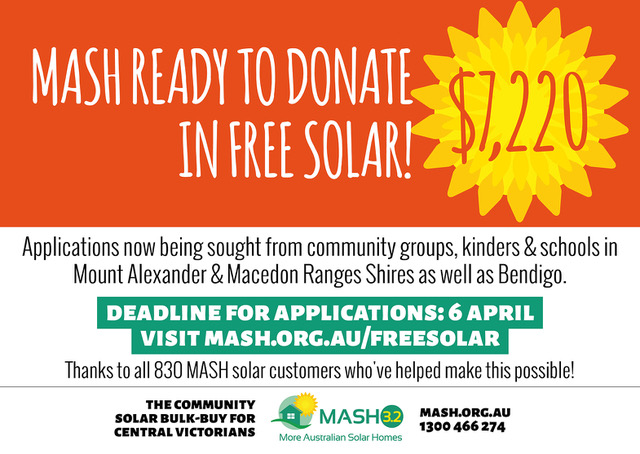 Grassroots community solar bulk-buy – MASH  – is ready to 'deliver the goods' once again in the form of free solar for the community.  Due to its ongoing success, the MASH bulk-buy has raised just over $7,000 to spend on free solar for a community group or school. This will be the seventh free community solar system donated by the MASH bulk-buy since it started in 2014.  For details on how to apply, click here.
Thanks to the massive support of MASH from all corners of our community, we have $7,220 in free solar ready to give away to a community group or school in Mount Alexander Shire, Macedon Ranges Shire or Bendigo, said Jo Kaptein, Executive Officer, at The Hub Foundation, the not-for-profit organiser of MASH.

This donation – our biggest ever – comes as a result of the success of MASH round 3.1, as well as from our collaboration with the Castlemaine State Festival and a philanthropic donation from The Hub Foundation.

We're putting the word out to community groups and schools to send in an application by Friday the 6th of April. This is a terrific opportunity for a community organisation to get a decent size system that could make a real dent in their electricity bill – and show their commitment to reducing their carbon footprint. Alternatively, we may be able to donate two smaller systems so we are encouraging all community groups and schools, regardless of size (and roof space) to send in an application!
Deadline for applications – 6th April
The deadline for applications is 5pm on Friday the 6th of April 2018.  For details on how to apply, click here.
Members of the selection panel who'll be assessing the applications include Taryn Lane, Manager at Hepburn Wind and member of The Hub Foundation's Advisory panel, Jo Kaptein, Executive Officer at The Hub Foundation and a representative from the Castlemaine State Festival.  The system will be installed by the solar provider for MASH round 3.1, Solargain.
About MASH
Note: MASH stands for More Australian Solar Homes and is a community solar bulk-buy that has resulted in over 830 more solar rooftops in central Victoria since it started in mid 2014.  Organised by the not-for-profit Hub Foundation based in Castlemaine, the MASH project is proud to have the support of Mount Alexander Shire Council, Macedon Ranges Shire Council, Hepburn Shire Council, Mount Alexander Sustainability Group, Macedon Ranges Sustainability Group, Bendigo Sustainability Group and Hepburn Wind. Visit mash.org.au or call the MASH team on 1300 466 274.