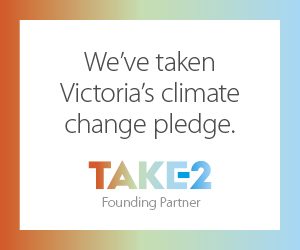 The Hub Foundation has committed to the Victorian Government's climate change pledge, TAKE2.
TAKE2 is Victoria's collective climate change action to help Victoria reach net zero greenhouse gas emissions by 2050.
TAKE2 gives all Victorians – businesses, local councils, community service organisations, educational institutions, families and individuals – an opportunity to be part of Victoria's action on climate change.
The Hub Foundation is a founding partner of TAKE2 and has taken the universal pledge:
Working together, we pledge to play our part and take action on climate change for Victoria, our country and our planet.
As part of the pledge, The Hub Foundation will encourage and promote the following:
Installation of solar PV on rooftops of houses, and business and community buildings
People actively using low carbon modes of transport such as bicycles
Installation of vegetable wicking beds on footpaths
To view our full pledge and to make your own pledge, visit take2.vic.gov.au.