Grassroots community solar bulk-buy – MASH  – is ready to 'deliver the goods' once again in the form of free solar for the community.  Due to its ongoing success, the MASH bulk-buy has raised just over $7,000 to spend on free solar for a community group or school. This will be the seventh free community solar system donated by the MASH bulk-buy since it started in 2014.  See bottom of this page for details on how to apply.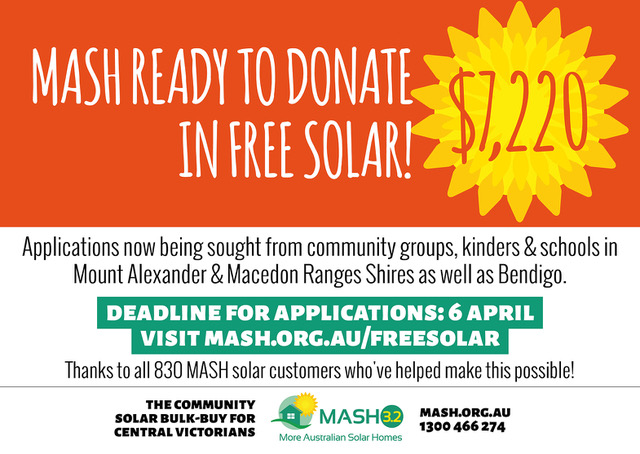 Jo Kaptein, Executive Officer, The Hub Foundation

Our biggest donation to-date!

Thanks to the massive support of MASH from all corners of our community, we have $7,220 in free solar ready to give away to a community group or school in Mount Alexander Shire, Macedon Ranges Shire or Bendigo, said Jo Kaptein, Executive Officer, at The Hub Foundation, the not-for-profit organiser of MASH.

This donation – our biggest ever – comes as a result of the success of MASH round 3.1, as well as from our collaboration with the Castlemaine State Festival and a philanthropic donation from The Hub Foundation.

We're putting the word out to community groups and schools to send in an application by Friday the 6th of April. This is a terrific opportunity for a community organisation to get a decent size system that could make a real dent in their electricity bill – and show their commitment to reducing their carbon footprint. Alternatively, we may be able to donate two smaller systems so we are encouraging all community groups and schools, regardless of size (and roof space) to send in an application!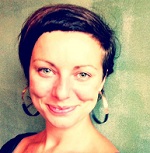 Members of the selection panel who'll be assessing the applications include Taryn Lane, Manager at Hepburn Wind and member of The Hub Foundation's Advisory panel, Jo Kaptein, Executive Officer at The Hub Foundation and a representative from the Castlemaine State Festival.  The system will be installed by the solar provider for MASH round 3.1, Solargain.
Note: MASH stands for More Australian Solar Homes and is a community solar bulk-buy that has resulted in over 830 more solar rooftops in central Victoria since it started in mid 2014.  Organised by the not-for-profit Hub Foundation based in Castlemaine, the MASH project is proud to have the support of Mount Alexander Shire Council, Macedon Ranges Shire Council, Hepburn Shire Council, Mount Alexander Sustainability Group, Macedon Ranges Sustainability Group, Bendigo Sustainability Group and Hepburn Wind. Visit mash.org.au or call the MASH team on 1300 466 274.
How to apply
The deadline for applying is 5pm on Friday the 6th of April 2018.  Applications to respond to both eligibility criteria (point 1 below) and 'other section criteria' (point 2 below).
Applications to be emailed to: jo@hubfoundation.org.au.
1. Eligibility criteria
State in your application how your organisation meets each of the eligibility criteria.
The applicant must:
be either a not-for-profit community group (and main user of the building that the solar PV system would be installed on) or a not-for-profit childcare centre or a school.
be in either Mt Alexander Shire, Macedon Ranges Shire or City of Greater Bendigo.
have a roof that is suitable for solar (Note: this will be assessed by our solar supplier and include assessment of shading, structural strength, rooftop orientation etc ideal for maximum solar generation).
have the written permission of the building owner (if the applicant does not own the building0for the solar PV system and supply this with the application.
be happy to participate in PR for this installation including a media release and photo of the installation with members of the applicants' organisation in the picture.
be prepared to nominate a person within its organisation to liaise with The Hub Foundation in all matters regarding its application and, should the application be shortlisted, for assessing the building in terms of suitability for solar PV.
2. Other selection criteria
In your application, state your response to each of the points below:
Provide property address (street address & postal address, if different), name and position of contact person, telephone, email.
Provide ABN or equivalent of organisation.
State whether the building is in a heritage overlay area or not.
State whether the building is heritage listed or not.
State whether the building already has solar PV system and if so, date when it was installed.
Provide a scanned copy of the most recent electricity bill (all pages).  Note bill MUST be paid by the community group, childcare centre or school.
State the average number of days per week that the building is used by the community and the number of daytime hours that the building is used by the community on average each week.
State the number of people that the community group/school supports within this building each week, on average throughout the year.
State a specific much-needed project to channel the first year savings arising from lower electricity bills that will directly benefit the people/groups serviced by the applicant organisation.
State whether the applicant organisation will commit to contributing at least $1,000 towards the solar PV installation. (Note: applicants who can contribute at least $1,000 towards a free solar system will be given priority as this could enable us to donate not just one solar system, but two – or contribute to the cost of a bigger system).
Selection panel
The selection panel will comprise of members of The Hub Foundation, including its Executive Officer, and a representative from The Castlemaine State Festival.
Deadline for applications
The deadline for applications is Friday 6 April at 5pm.  Applications (answering both eligibility and selection criteria) to be emailed to jo@hubfoundation.org.au.
The outcome of the selection process – including the name of the successful organisation – will be communicated to all applicants by Friday 27 April and publicised through a media announcement.
If you have any questions, please email jo@hubfoundation.org.au, or call 0455 589 065.