Why? Because there has never been a better time to go solar! That's because the State Government has just announced a new solar panels rebate which is worth up to $2225 for eligible households.
MASH Info Meetings
Gisborne Community Centre (Thurs 20/9/2018)

Castlemaine Mechanics Institute (Tues 20/11/2018)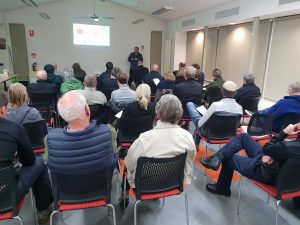 Find out whether going solar – and possibly adding battery storage – is right for you. Come to a MASH solar and battery info meeting to learn about the MASH community solar bulk-buy and get answers to all your questions! Plus find out about the new State Government solar panel rebate worth up to $2225 that was announced on 19th August 2018. 
Learn about the solar panel and battery systems on offer.
Find out what they cost.
Hear about the sort of bill savings you might expect.

Get the latest on the new Victorian State Government Solar Panels rebate  – worth up to $2225 – for eligible households. (Yes, it is available now and it is IN ADDITION to the Federal Government Small-Scale Technology Certificates which is the other form of rebate available to households going solar).

Find out how the MASH process works and how quickly you could have your system up and running.
And learn how both the local community – and our planet – benefit from the MASH project!
Event dates and locations
Thursday 20 September, 6.30pm-8.00pm, Gisborne Community Centre, 8a Hamilton Street, Gisborne 3437
Tuesday 20 November 2018,  6.30pm-8.00pm, Castlemaine Senior Citizens Centre, Mechanics St, Castlemaine
(Please note that the Castlemaine Info meetings scheduled in Sept and Oct have been cancelled.)
Reserve your place
Fill in this form or call the MASH community phone line on 1300 466 274.
Presentation
6.30pm-6.40pm – Welcome and introduction – Jo Kaptein, Manager, MASH community solar bulk-buy
6.40pm – 7.40pm – MASH solar and battery systems: What they are; how much they cost; and the payback you might expect. Plus the new State Government Solar Rebate – Nathanael Stegmann, Solar Specialist, Energy Matters (MASH solar and battery supplier)
7.30pm-8.00pm – Q&A: an opportunity for you to put your questions to the presenters
8.00pm – Close.  (You are welcome to stay for another 30 minutes and ask any other questions you may have about the bulk-buy).