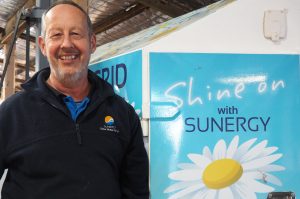 Bendigo based solar company Sunergy has recently expanded its workforce thanks to the campaign for More Australian Solar Homes (MASH).
The company was appointed by The Hub Foundation Castlemaine earlier this year to supply and install solar for the current round of the MASH community solar bulk-buy.
Tony Smith, Managing Director at Sunergy said his company has expanded to meet the strong demand from the MASH project.
"We have employed two more office staff to service the installations and also contracted additional solar installers in the Mount Alexander and Macedon Ranges Shires, supporting economic growth in central Victoria" Tony said.
Tony also said that his company is delighted to be the supplier for the current round of the MASH community solar bulk-buy, "We fully support the community ethos of MASH and the commitment to installing free solar PV systems on schools and community buildings in the region."
Whilst living in the Adelaide Hills in the early 2000's, Tony experienced what it is like to have a low quality solar PV system installed at his own house, along with poor service from a solar company. This led him to research the solar PV business and then become aware that there are many inferior solar PV products on the market. Together with the desire to start his own business, Tony founded Sunergy in 2010 so he could offer residents and businesses the best quality systems at competitive prices. He moved to Bendigo in 2011 and his passion for solar has seen his business grow steadily.
Sunergy is a member of the Australian Solar Council and an accredited installer of the Clean Energy Council. The company is also fully accredited to install solar systems of all types and sizes, including residential, commercial, on-grid, hybrid and off-grid, and has a long history of supporting its community, including donating solar power systems to the Bendigo Discovery Science and Technology Centre and Quarry Hill Primary School.
MASH is also delivered in partnership with the Bendigo, Macedon and Mount Alexander sustainability groups, City of Greater Bendigo and Macedon Ranges and Mount Alexander shire councils.
The current round of MASH closes on 9 December 2016. For more information, visit mash.org.au or call the MASH team on 1300 466 274.