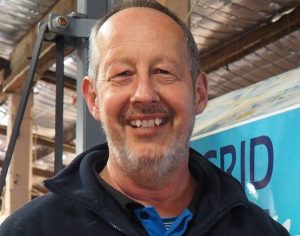 Sunergy has been appointed by the Hub Foundation as the solar supplier and installer for the current round of the MASH community solar bulk-buy.  Founded in 2010, Sunergy is a national company headquartered in Bendigo. A member of the Clean Energy Council, Sunergy is fully accredited to install solar systems of all types and sizes (residential, commercial, on-grid, hybrid and off-grid). Sunergy uses its own installers, as well as local installers in the shires of Mount Alexander and Macedon Ranges to install MASH systems thereby supporting local employment in the region.
Why Sunergy?
Tony Smith outside Sunergy's office at 301 Eaglehawk Rd, California Gully, Bendigo

Lifetime workmanship warranty – this means that if the solar system installed by Sunergy fails or breaks due to defective performance of Sunergy's installation services, Sunergy will provide you with a remedy. (Note: the industry standard workmanship warranty on solar PV systems is usually only 5 years, 10 years maximum)

Performance guarantee – this guarantees that the kilowatt hours of solar production for your home (as provided in your quote) will be met or exceeded in year 1 and 90% that amount will be met or exceeded for 4 more years.
Quality installation process – typically it takes up to 6 weeks from when you place your order to when your system is installed but usually much sooner, all depending on supply and demand at particular times.
Certified for ISO9001 (Quality), AS4801 (OH&S) and ISO14001 (Environment). To receive these certifications, Sunergy is audited every 3 years to ensure that it complies with the strict requirements of these certifications. Sunergy is one of the few solar companies in Victoria to have this triple level of certification, demonstrating the company's commitment to quality.
Qualified to design and install all types and sizes of solar installations – including specialist accreditation for supplying off-grid systems and providing warranties on these systems.
Worked successfully on a previous MASH round, with high levels of customer satisfaction.
What Sunergy can offer you
High quality installation of your system – backed by a performance guarantee and lifetime workmanship guarantee.
Expertise in system design – to optimise efficiency of your system.
Consultative approach – the team at Sunergy will take the time to understand your requirements and design a system that best fits your requirements.
Reliable prompt installation service – with all paperwork handled in a timely fashion on your behalf.
Installation within 6 weeks of placing order, often much sooner.
Sunergy is committed to designing and installing high quality solar PV systems and battery storage systems for our customers. We are delighted to be the supplier for this current round of the MASH community solar bulk-buy. We fully support the community ethos of MASH, the community approach to generating interest in the project and the commitment to installing free solar PV systems on schools and community buildings in the region. – Tony Smith, Managing Director, Sunergy
To learn more about Sunergy, visit sunergysolar.com.au.